This post will remain at the top! Please scroll down for NEW posts!!
Hi ya everyone! I apologize for the long absence. I have been feeling pretty yucky for the past two weeks. I usually work ahead so luckily it looks like I've been down and out for a week, but really it's been longer. I'm very sorry! I have a celebration here on my blog to celebrate 500 followers starting TODAY!!! You are going to LOVE my prizes! I have two to give away. The first is a $50 gift certificate to my favorite place to shop online -
iCopic
! They have a fabulous array of Copics, papers, stamps and anything else you might need. The fabulous store owner Ashly kindly donated $30 for the certificate and I added a nice $20 for a big fat certificate for my winner.
The second fabulous prize is a $10 gift certificate to one of my favorite digital stamp stores -
Tiddly Inks!
You all know I love me some Tiddly's and let's just say, I just saw the new release and they are GRAND!!!! The wonderful Christy Croll, owner and designer of Tiddly Inks donated this fabulous prize!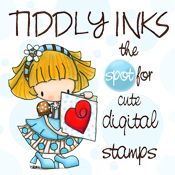 I love the companies that I design for and am so thankful for their product and their generosity. I can honestly say that I've found the blogging community to be filled with GENEROUS people and I love each of those people I've met and feel truly blessed to know and work with a number of them.
I also feel blessed in my followers and those that leave me comments on my projects. It's enjoyable to craft and I love it with all my heart...but the joy that others receive because of my cards and projects really touches my soul. Thank you fabulous people for being followers and commentors. I truly am grateful for each of you!!
So there you have it - a $50 gift certificate to iCopic and a $10 gift certificate to Tiddly Inks! All you have to do is be a follower and leave me a comment and I would love for you to share my blog with others if you do enjoy my creations and think my blog worthy of sharing!
*edited to add* You'll have TWO weeks to comment!!! On May 7th I'll pick a Winner!!!